Personal Injury/Motor Vehicle Accident Injury
Being involved in an accident through no fault of your own is a stressful and frightening experience. In addition to suffering from injuries, you are often faced with the challenges of dealing with insurance companies, treatment costs, time off work, and perhaps mental and emotional problems such as depression and post-traumatic stress disorder (PTSD).
Let the experienced legal team of BRIJ MOHAN & ASSOCIATES guide you through this complex process and protect your legal interests. We will ensure that you receive the medical and rehabilitation, wage loss and homemaker benefits that you are entitled to.
There are often many strict time limitations that have to be considered in reporting and litigating a claim. We have a seasoned group of litigators, led by Senior Counsel Brij Mohan, who have dealt with everything from soft tissue injuries to catastrophic brain injury cases, including but not limited to, wrongful death claims. We are passionate about getting our clients fair and reasonable settlements for their claims.
For more information on how we can help you after a motor vehicle accident, contact us at 1 (800) 871-1196. You can also email us at [email protected] for a free initial consultation.
Motor Vehicle Injury Claims
Traumatic Brain Injury
Spinal Cord Injuries
Orthopedic and Musculoskeletal Injuries
Psychological Injuries
Catastrophic Injuries
Fatal Injury Claims
BRIJ MOHAN & ASSOCIATES has recovered many millions of dollars for our clients involved in serious Motor Vehicle Accidents.  We work on Contingency Fee basis for injury cases, so you will not pay until your case is resolved.
"We recognize how important obtaining or maintaining proper immigration status is to individuals and families in and outside Canada.
Put our legal team's extensive experience to work for you when you retain Brij Mohan & Associates."
Brij Mohan & Associates, Barristers and Solicitors
Brij Mohan & Associates, Barristers and Solicitors is conveniently located nationally at multiple locations across Canada to serve you better. Contact us if you have any questions, or want to find a location near you.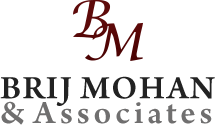 Brampton / Toronto
Phone: 416-994-8989
Fax: 604-598-0588
Email: [email protected]
#302 – 2250 Bovaird Drive East
Brampton, ON L6R 0W3
Surrey / Vancouver
Phone: 604-598-0988
Fax: 604-598-0588
Email: [email protected]
#205 – 12830 80th Avenue
Surrey, BC V3W 3A8
Calgary
Phone: 403-717-8880
Fax: 604-598-0588
Email: [email protected]
#1211 – 3730 108 Avenue NE
Calgary, AB T3N 1V9
Edmonton
Phone: 780-951-2662
Fax: 604-598-0588
Email: [email protected]
6147 – 28 Avenue
Edmonton, AB T6L 6N5