The Law Firm of BRIJ MOHAN & ASSOCIATES has successfully handled criminal matters ranging from shoplifting to First Degree Murder, and virtually everything in between.
Mr. Brij Mohan has successfully fought Criminal and Civil cases across Canada and has reached all levels of the Courts including the highest law in the land; The Supreme Court of Canada. Our high rate of success in criminal advocacy is based on our commitment to our clients, but also decades of experience. Our record speaks for itself!
Facing a criminal charge can have serious consequences such as arrest or deportation and having a criminal record can be life altering.
When you hire BRIJ MOHAN & ASSOCIATES you will have a committed advocate who will never pressure you to plead guilty and will tenaciously fight to protect and defend your Constitutional Rights. Our office is skilled in the application of the Charter of Rights and Freedoms as means to have evidence excluded and charges dropped and in the extensive use of complex Pre-Trial applications.
1st Degree Murder; planned and deliberated murder of another human being

2nd Degree Murder
Manslaughter
Aggravated Assault with a weapon or Assault causing bodily harm
Spousal Assault
Sexual Offences
Sexual Offences against Children
(Sexual Exploitation, Luring a Child)
Arson
Drug Offences;
(Importation, Multi-kilo level to street level dial-a-dope)
Extortion, Robbery and Break and Enter
Firearms and other Weapons Offences
Driving Offences;
Impaired Driving, Dangerous Driving and all Driving Offences
Theft
Shoplifting
White Collar & Economic Crimes
If you would like to speak with us in confidence about your case, please call us for free consultation at 1 (877) 843-3969 or email us: [email protected]
"We recognize what is at stake in a criminal case.
Put our legal experience to work for you when you retain Brij Mohan & Associates."
Brij Mohan & Associates, Barristers and Solicitors
Brij Mohan & Associates, Barristers and Solicitors is conveniently located nationally at multiple locations across Canada to serve you better. Contact us if you have any questions, or want to find a location near you.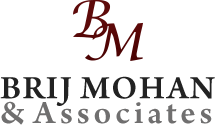 Brampton / Toronto
Phone: 416-994-8989
Fax: 604-598-0588
Email: [email protected]
#302 – 2250 Bovaird Drive East
Brampton, ON L6R 0W3
Surrey / Vancouver
Phone: 604-598-0988
Fax: 604-598-0588
Email: [email protected]
#205 – 12830 80th Avenue
Surrey, BC V3W 3A8
Calgary
Phone: 403-717-8880
Fax: 604-598-0588
Email: [email protected]
#1211 – 3730 108 Avenue NE
Calgary, AB T3N 1V9
Edmonton
Phone: 780-951-2662
Fax: 604-598-0588
Email: [email protected]
6147 – 28 Avenue
Edmonton, AB T6L 6N5