The Law Firm of BRIJ MOHAN & ASSOCIATES can represent you in all areas of immigration law across Canada – from applications to appeals and everything in between.
Our high rate of success is based on our commitment to our clients, but also decades of experience. Our record speaks for itself!
Immigration matters can be complicated and daunting to deal with. Many issues may crop up before, during or even after the process, which can have serious consequences such as arrest or deportation and bans that can be life altering.
When you hire BRIJ MOHAN & ASSOCIATES you will have a committed advocate and a team of seasoned lawyers with a network of offices, who will pursue every avenue possible for you to obtain or maintain your immigration status that you seek – it can be temporary (visitor visa, student visa or work permit) or permanent (skilled worker immigration, business immigration or sponsored spouse, child or parents/grand-parents immigration). Our office is skilled in the application of the Charter of Rights and Freedoms and its application to various immigration issues.
Refusals & Appeals
Criminal inadmissibility
Removals & Deportation
Detention or Border issues upon arrival
Criminal Rehabilitation
Pardons
Medical inadmissibility
Financial inadmissibility
Misrepresentation
Fraudulent marriages
Humanitarian & Compassionate applications
Business immigration
Start-Up visa applications
Spouse & family immigration
International adoption
Study Permits
Work Permits
LMIA for Canadian employers
Loss of Permanent Resident status (Residency Obligations)
Caregiver programs
Refugee applications and Appeals
Express Entry applications
Visitor visa, Super Visa applications
Canada Experience Class applications
Provincial Nominee Programs [ALL PROVINCES]
Francophone immigration
Canada-United States-Mexico Agreement (CUSMA) strategies [previously NAFTA]
Global Mobility strategies
Global Talent Stream
Citizenship application & appeals
Citizenship revocation
Cessation & vacation of Refugee status (and loss of PR status)
COVID-19 related travel exemption applications
If you would like to speak with us in confidence about your case, please call us for free consultation at 1 (800) 871-1196 or email us at: [email protected]
"We recognize how important obtaining or maintaining proper immigration status is to individuals and families in and outside Canada.
Put our legal team's extensive experience to work for you when you retain Brij Mohan & Associates."
Brij Mohan & Associates, Barristers and Solicitors
Brij Mohan & Associates, Barristers and Solicitors is conveniently located nationally at multiple locations across Canada to serve you better. Contact us if you have any questions, or want to find a location near you.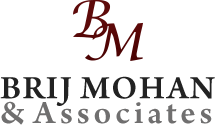 Brampton / Toronto
Phone: 416-994-8989
Fax: 604-598-0588
Email: [email protected]
#302 – 2250 Bovaird Drive East
Brampton, ON L6R 0W3
Surrey / Vancouver
Phone: 604-598-0988
Fax: 604-598-0588
Email: [email protected]
#205 – 12830 80th Avenue
Surrey, BC V3W 3A8
Calgary
Phone: 403-717-8880
Fax: 604-598-0588
Email: [email protected]
#1211 – 3730 108 Avenue NE
Calgary, AB T3N 1V9
Edmonton
Phone: 780-951-2662
Fax: 604-598-0588
Email: [email protected]
6147 – 28 Avenue
Edmonton, AB T6L 6N5