Criminal Defence, Canadian Immigration Law and Personal Injury Lawyers
Brij Mohan & Associates Barristers and Solicitors
We specialise in the areas of Criminal Defence, Immigration Law and Personal Injury cases.
We live in one of the best law-abiding countries in the world where Fundamental Rights are guaranteed!
We at BRIJ MOHAN & ASSOCIATES will do whatever it takes, within legal limits to protect and defend those Fundamental Rights and Freedoms enshrined in our Constitution.
At BRIJ MOHAN & ASSOCIATES, we know that satisfying current client relationships and building new relationships comes from demonstrated excellence in client service, attention to detail and affordable legal services. We have a total of 53 staff members including 15 relentless Lawyers to cater to your legal needs. Every member of our team at BRIJ MOHAN & ASSOCIATES is dedicated and committed to helping our clients with a high level of integrity and professionalism.
Our founder, Brij Mohan, completed his law degree from London Guildhall University, U.K. Brij Mohan is an experienced lawyer with nearly three decades of Courtroom Trial Experience yielding many high-profile reported decisions. Brij Mohan has been privileged to represent his clients before all levels of Trial and Appellate Courts across Canada, as well as the highest level of court, The Supreme Court of Canada. He is a member in good standing with multiple Law Societies in Canada.
Criminal Defence, Immigration Law & Personal Injury Trial Lawyers
"Lawyers who protect your rights and liberties."
Brij Mohan & Associates, Barristers and Solicitors
Brij Mohan & Associates, Barristers and Solicitors is conveniently located nationally at multiple locations across Canada to serve you better. Contact us if you have any questions, or want to find a location near you.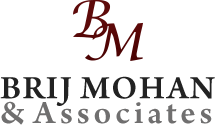 Brampton / Toronto
Phone: 416-994-8989
Fax: 604-598-0588
Email: [email protected]
#302 – 2250 Bovaird Drive East
Brampton, ON L6R 0W3
Surrey / Vancouver
Phone: 604-598-0988
Fax: 604-598-0588
Email: [email protected]
#205 – 12830 80th Avenue
Surrey, BC V3W 3A8
Calgary
Phone: 403-717-8880
Fax: 604-598-0588
Email: [email protected]
#1211 – 3730 108 Avenue NE
Calgary, AB T3N 1V9
Edmonton
Phone: 780-951-2662
Fax: 604-598-0588
Email: [email protected]
6147 – 28 Avenue
Edmonton, AB T6L 6N5